I like bananas! But, I love banana bread!! When bananas are spotted or overripe, it's time to make them into banana bread. I hope you enjoy this banana bread recipe as much as I do.
Selah's Banana Bread
Ingredients
3 bananas, overripe or spotted
1/3 cup melted vegan butter
3/4 cup cane sugar
1 teaspoon vanilla extract
Pinch of salt
1 1/2 cup all-purpose flour
2 teaspoons baking soda
3 tablespoons water mixed with 1 tablespoon ground flaxseed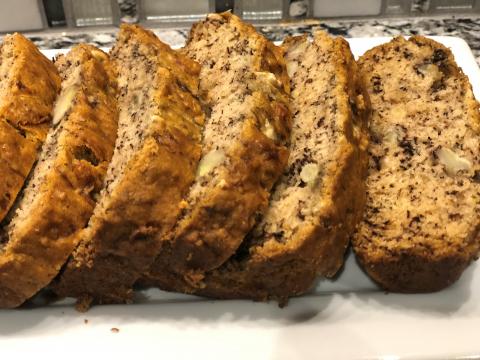 Instructions
Preheat oven to 350 degrees and oil bread pan.
In a mixing bowl, mash the bananas with a fork until smooth.
Add the melted butter to the mashed bananas and mix well.
Add baking soda, salt, sugar, vanilla, and flaxseed mixture, flour, and mix until blended completely.
Pour the batter into a bread pan and bake for one hour. At 50 minutes check the loaf by poking a meat thermometer in the middle of the loaf. The temperature should be 190 degrees. If the loaf has not reached the temperature of 190 degrees, bake the remaining 10 minutes.
Remove the banana bread from the oven and place it on a cooling rack.
Let cool for 10-15 minutes. Then slice, serve and enjoy!
Call to Action
Banana bread tends to have a high rate of protein, and boost energy, and is beneficial to heart health.
It's my prayer that we take time each day to be attentive to God's Word, that we ask Him to lead us and that we are willing to follow Him wherever He leads.
"My son, be attentive to my words; incline your ear to my sayings. Let them not escape from your sight; keep them within your heart. For they are life to those who find them, and healing to all their flesh" (Proverbs 4:20-22 ESV).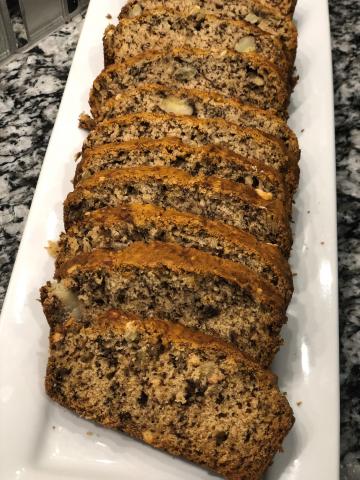 ---
Our next plant-based recipe will be published on August 13.