With the weather season changing to cooler weather, this festive favorite is the perfect warm dish!
Pozole
Ingredients
Broth:
12 guajillo chilies, dried
3 large garlic cloves
1/2 tablespoon of salt
12 cups water and 2 tablespoon vegetable better than bouillon
1 10.8 ounce can hominy (or similar size, non-GMO preferred)
Jackfruit
3 20 ounce cans of Jackfruit
1/4 cup soy sauce or liquid aminos
1 tablespoon of maple syrup
2 teaspoons of garlic powder
4 tablespoons of avocado oil
1 1/2 teaspoons of onion powder
Toppings
Radish, oregano, shredded cabbage, and diced onion (amount, as desired)
Mexican chili oil or cayenne pepper (optional)
Instructions
Soak guajillo chili peppers in 2 cups of hot water for one hour.
While the chili peppers are soaking, prep the jackfruit. Open cans of jackfruit, drain and rinse. Pat dry with a towel and shred using your hands.
Add jackfruit to a mixing bowl and add soy sauce (or liquid aminos) garlic powder, onion powder, maple syrup, and avocado oil.
Air-fry, bake or pan-fry for about 15 minutes or until golden brown and slightly crispy.
Add water to a large pot and bring it to a boil. Once it starts simmering, add bouillon paste to dissolve in water. Stir in to help dissolve.
Once the chili peppers have soaked, blend the soaked chili peppers in a blender along with garlic, the water they were soaking in, and 1/2 tablespoon salt. Blend well and strain into the pot of simmering broth.
Add hominy into the pot and simmer on low for 30 minutes.
Once the hominy has simmered add the crispy jackfruit to the pozole and cook for 10 minutes.
Taste pozole and adjust salt if needed. After 30 minutes, serve in a bowl. Top off with chopped onions, shredded cabbage, sliced radishes, chili oil, oregano, and enjoy!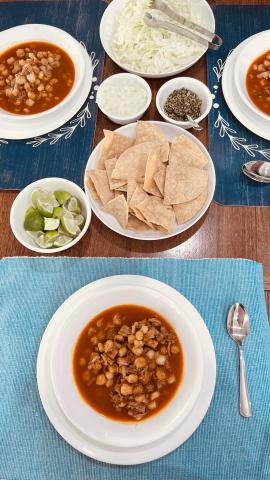 Call to Action
You don't have to give up your favorite dish when choosing to eat healthy. Just swap out the ingredients. Jackfruit makes a great substitute for dishes requiring beef. Go ahead, get creative!! And remember that: