Christmas is just around the corner, and this dish will make your table look amazing. I like to serve mine over salad, but you can serve it on its own or as a dessert with some vanilla ice cream and topped with pistachios. The pomegranate juice with cinnamon, anise, and cloves will make your home smell like Christmas!
Pomegranate Poached Pears With Pistachios
Ingredients
4 large pears peeled and cut in halves without the core
2 cups 100% no sugar added pure pomegranate juice
1 cup organic no sugar added apple juice
2 tablespoons of pure maple syrup
1/2 inch piece of ginger
1/2 teaspoon cardamom powder
2 sticks of cinnamon
2 star anise 
3 whole cloves 
1/4 cup pistachios crushed
Instructions
Peel and core the pears and add to a large pan with the pomegranate and apple juice, ginger, cardamom, cinnamon sticks, cloves, and maple syrup. Bring to a boil, then reduce the heat to a light simmer. Cook for 15 minutes (make sure to flip the pears half way through to ensure they cook well in both sides).
Remove the pears from the pan, then increase the apple juice mixture to a light boil. Boil for around 15 minutes until the juice reduces and becomes a syrup.
Plate the pears and then drizzle on the syrup. Sprinkle with pistachios. Enjoy!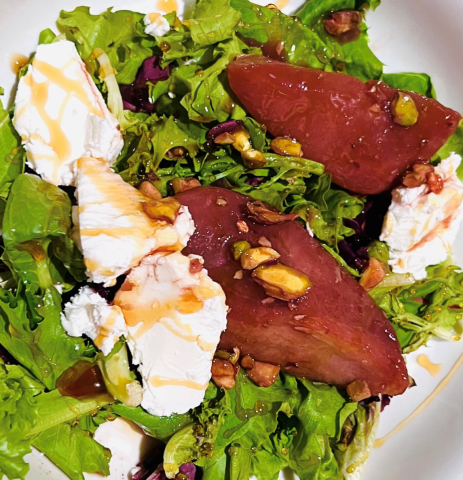 Call to Action
When I eat pomegranates, I can't help but to think of the promised land (Revelation 21:1). I can't wait to be there one day!
---
Our next plant-based recipe will be published on December 26.