Here is an easy and healthy No Knead Rustic Bread recipe for busy people.
Video with ingredients and instructions:
No Knead Rustic Bread
Ingredients
3 cups warm water
2 1/4 teaspoons active dry yeast
1 tablespoon sugar
6 cups flour
3 teaspoons sea salt
Instructions
Mix water, yeast, and sugar in a large mixing bowl. Let sit for about five minutes until bubbly.
Add flour and salt. Mix until combined into a soft dough. The dough should be slightly sticky to touch, but not so much that much comes off your hands.
Cover loosely with plastic warp and a kitchen towel. Let it rise for one to three hours.
Preheat oven to 450 degrees Fahrenheit
Fill a baking dish with two inches of water and place on bottom rack in oven to heat up for a crusty bread.
Sprinkle flour on the counter, turn out dough, fold on itself, divide in half and form it into two balls. Don't knead or handle it more than you need to. Add a little flour if too sticky.
Cut a X shape on top of the balls with a sharp knife.
Place on a cookie sheet.
Bake for 25-30 minutes or until internal temperature is 190 degrees Fahrenheit.
Let cool for about 30 minutes before slicing.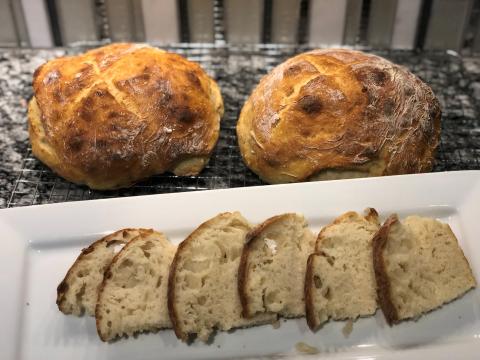 Call to Action
Jesus says, "I am the bread of life; whoever comes to me shall not hunger, and whoever believes in me shall never thirst" (John 6:35 ESV).
We must remember to feast on His Word every day.
---
Our next plant-based recipe will be published on October 27.