This stew is an easy and healthy meal to make — and high in fiber. It's a great on-the-go soup to make for your family or if you have unexpected guests.
Moroccan Lentil Stew
Ingredients:
3 tablespoons extra virgin olive oil
1 large onion, chopped
1 celery stalk, chopped
1 carrot, chopped
3 garlic cloves, minced
2 teaspoons ground coriander
1 teaspoon ground cumin
1 teaspoon ground turmeric
1/2 teaspoon smoked paprika
1/4 teaspoon ground cinnamon
1/2 teaspoon sea salt
8 cups vegetable broth,
1-15oz can diced tomatoes
2 cups red lentils
1 lemon juiced
4 tablespoons fresh flat-leaf parsley, chopped
1 tablespoon fresh cilantro, chopped
Instructions:
Heat olive oil in a large pot over medium heat. Add the onions, carrots, and celery and sauté until tender. It will take about 3-4 minutes. Add the garlic, coriander, cumin, turmeric, paprika, cinnamon, and salt. Continue cooking for another 2-3 minutes, stirring the whole time.
Then add the broth, tomatoes, and lentils and stir well. Bring to a boil.
Simmer uncovered on low heat for about 20-25 minutes (until the lentils are tender), stirring occasionally.
Remove the soup from the heat and ladle half of it into a large mixing bowl. Carefully blend half of the soup in small batches if necessary. Return the blended half of the soup back to the pot and mix well.
Top it off with chopped parsley, cilantro, and a drizzle with olive oil.
This dish pairs well with pita bread and hummus.
Call to Action
Let's remember the hasty decision Esau made and think twice before we act rashly, with hunger "pains" or other emotion:
"Once when Jacob was cooking stew, Esau came in from the field, and he was exhausted. And Esau said to Jacob, 'Let me eat some of that red stew, for I am exhausted!' (Therefore his name was called Edom.) Jacob said, 'Sell me your birthright now.' Esau said, 'I am about to die; of what use is a birthright to me?' Jacob said, 'Swear to me now.' So he swore to him and sold his birthright to Jacob. Then Jacob gave Esau bread and lentil stew, and he ate and drank and rose and went his way. Thus Esau despised his birthright" (Genesis 25:29-34 ESV emphasis added).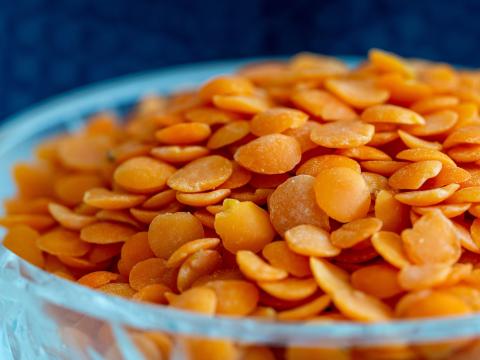 ---
Our next plant-based recipe will be published on March 21.