This delightful summer salad combines delicious flavors and textures to please any palate and is hearty enough to satisfy the appetite as a main dish. The juice from the mango mixed with fresh mint gives this salad a refreshing flavor. The plantain enhances the sweetness of the salad, and the roasted chickpeas add a delightful crunch!
Prep Time: 20 minutes Cook Time: 10 minutes Total Time: 30 minutes Yield: 2-3 servings
Island Summer Salad
Ingredients
2 tablespoons of olive oil
2 large cloves of garlic, thinly sliced (grilled is optional)
1 lime, juiced
1 teaspoon of maple syrup or agave
1 small-medium head romaine, chopped
1 mango, sliced
3 green onions, finely sliced
2 stalks hearts of palm, chopped (optional)
2 Roma tomatoes, chopped
1/2 red onion, chopped
1/4 cup cilantro, chopped
5 large fresh mint leaves, roughly chopped
1 avocado - sliced
2 cups roasted chickpeas (see below)
1 plantain grilled (see below)
Salt to taste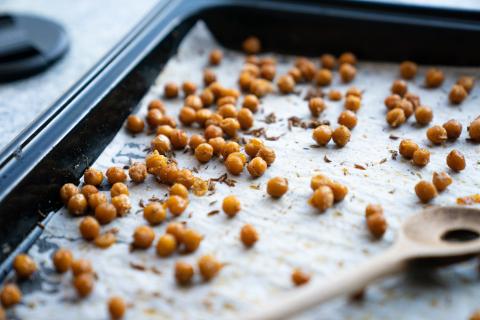 Instructions
In a medium-sized bowl, mix the chickpeas with a sprinkle of olive oil, smoked paprika, garlic powder, and other favorite savory seasonings. Place on a baking sheet and place in the oven at 425 degrees for 20 minutes or until crispy. The chickpeas should come out crisp but not burnt.
Slice the ripe plantain and grill on low heat until soft. You may add either oil or water while grilling. Once the plantain is soft, set it aside. It will be used as the topping. You can move to step number three while these are grilling.
Place 1 tablespoon olive oil and sliced garlic in a small saucepan. Sauté for about 2 minutes.
Combine and whisk (or stir) 1 tablespoon each of olive oil, maple syrup, and lime juice and combine with olive oil. This is your dressing. Add the dressing, olive oil, and sliced garlic to a large bowl.
Add romaine lettuce, sliced mango, green onion, hearts of palm, tomatoes, cilantro, and mint to the same bowl. Toss to coat.
Divide the salad into individually plated portions, topping each one with a handful of roasted chickpeas and grilled plantain.
Enjoy!
Call to Action
As you enjoy this Caribbean salad as a healthy choice during this warm season, rejoice in the Lord, who provides our food in due season (Psalm 145:15). Remember that you are called to bless others in due season with the good things God has given you (Matthew 24:45).
---
Our next plant-based recipe will be published on September 9.

All scripture taken from the New King James Version®. Copyright © 1982 by Thomas Nelson. Used by permission. All rights reserved.