This lasagna is not only delicious and packed with vegetables, but is also gluten-free without sacrificing flavor! Whether you are sensitive to gluten, trying to lose weight, or just staying away from modern wheat, this dish will satisfy your cravings for those rich Italian dishes minus the discomfort that modern-day wheat and dairy can cause some of us.
Guilt-Free Lasagna
Ingredients
Jovial brown rice no-boil lasagna (or any lasagna of your choice)
1 block organic tofu (drained)
Sea salt to taste
5 cups organic baby spinach
4 large organic shredded carrots
1 cup Organic green peas
1 medium yellow organic diced onion (sautéed in a little olive oil)
3 cups organic broccoli (finely processed until it's grainy)
For the Sauce
1 jar organic marinara sauce
1 cup soaked raw cashews
1 organic red bell pepper
1 tablespoon olive oil
1 teaspoon of pink Himalayan salt
1 tablespoon pure maple syrup
In a blender, blend all ingredients in medium-low heat for five minutes until creamy to use as a sauce. Stir constantly.
Instructions
Preheat oven at 350 degrees.
Note: if you don't want to boil the lasagna sheets beforehand, and prefer the no boil method, the secret is to cover the lasagna sheets with a lot of sauce so they don't dry, specially on the top layer.
Drain the water from the tofu and mash it, add salt to taste (I use 1 and ½ teaspoons)
Mix all vegetables with tofu (except for spinach)
Pour marinara sauce at the bottom of the pan, add a layer of lasagna, add more marinara, follow with a layer of the tofu/vegetables mixture, add spinach
Add another layer of lasagna and more marinara, follow with a layer of tofu/vegetable mixture, add spinach, repeat these steps until you cannot add any more layers
End with a layer of lasagna and marinara. (Optional) top with any vegan cheese, some sliced tomatoes, and basil leaves to garnish.
Cover with chlorine-free parchment paper and then cover with aluminum foil.
Bake for 30 minutes or until pasta is soft at 350 degrees covered, if you added vegan cheese on top, uncover for the last 5 minutes to allow the cheese to get a golden brown look.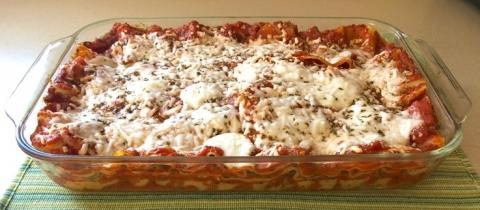 Call to Action
I invite you to try this guilt-free lasagna — hope you enjoy it as much as my family and I have!
More importantly, as we near Christ's soon return, it's my prayer that we accept His invitation:
"Come now, let us reason together, says the Lord: though your sins are like scarlet, they shall be as white as snow; though they are red like crimson, they shall become like wool" (Isaiah 1:18 ESV).