I would say that Spanish food is my favorite! Watch out for future recipes! I will share all my favorite Spanish "tapas" (side dishes) in future articles during 2022, which will complement this paella well.
If you want authentic Spanish paella, let me give you four tips:
Get Spanish Bomba rice (you can buy it on Amazon).
Use good quality saffron threads (it is expensive, but a little goes a long way and is this ingredient what gives that authentic Spanish paella that flowery aroma and golden color, (you don't want to substitute it).
Use a stainless-steel paella pan or any other 18" stainless steel pan, do not use nonstick pans, because an excellent Spanish paella is better when it sticks to the bottom and develops what the Spaniards call "socarrat" (the golden rice crust).
DO NOT STIR once you have poured the broth into the pan; otherwise, socarrat won't develop.
Authentic Spanish Paella
Ingredients
3 tablespoons olive oil, divided
4 cups vegetable broth, low sodium
1 teaspoon saffron threads
1 medium onion, diced
1 red bell pepper, cut into strips
1 medium green zucchini cut in wedges
5 cloves garlic, chopped, minced or crushed
1 large tomato, diced
1 1/2 cups Bomba rice
1 teaspoon Spanish smoked paprika
1/2 teaspoon sweet paprika
1 teaspoon sea salt, more to taste
Black pepper, to taste
2 sprigs fresh thyme (sub 1 teaspoon dried)
1 can of organic artichoke hearts (drained to garnish)
3/4 cup frozen peas, thawed to put on top once paella is done cooking (to garnish)
Lemon wedges (to garnish)
Fresh-cut parsley (to garnish)
Instructions
In a medium saucepan, add vegetable broth at medium-high heat, incorporate saffron, smoked paprika, sweet paprika, salt, and pepper until it simmers, give it 1 minute, and turn the heat off.
Heat 2 tablespoons of oil in an 18-inch Paella Pan (or similar sized stainless-steel pan) over medium heat. Once heated, add the onions, zucchini, and peppers. Sauté until softened and lightly browned, about 3-5 minutes.
Add the garlic. Sauté for 1 minute.
Add the tomatoes. Sauté for 1-2 minutes.
Add Bomba rice and the remaining 1 tablespoon of oil to the pan. Stir to coat well. Cook for 1 minute to lightly toast the rice and incorporate flavors. Move around occasionally to prevent sticking.
Add fresh thyme and slowly pour in broth. DO NOT STIR AFTER THIS POINT or it will release starches and cause creamier rice. Turn the heat to medium-high and bring the broth to a heavy simmer for 1-2 minutes.
Now turn the heat down (between medium-low and medium heat) to a mild simmer. (don't boil, though). Simmer for 15-20 minutes until rice is al dente.
Once the broth is nearly cooked off, pay close attention to the socarrat forming on the bottom of the pan. You will start to hear a snap, crackle, and pop, along with smelling a nutty aroma. This should take 1-2 minutes to form. Stick a fork or spoon straight to the bottom to test if it's forming. (If it smells like it's burning, remove from heat immediately), it's better to have no socarrat than to have a burned paella.
Remove the pan from the heat. Add the peas to the top of the rice, but don't mix in. Cover the pan with foil or lid and let the paella rest for 5 minutes before serving. Top with fresh-cut parsley, black pepper, artichoke hearts, and lemon wedges to serve. Make sure when you serve to scoop out the rice to the bottom of the pan so that you can taste that amazing socorrat. Buen apetito!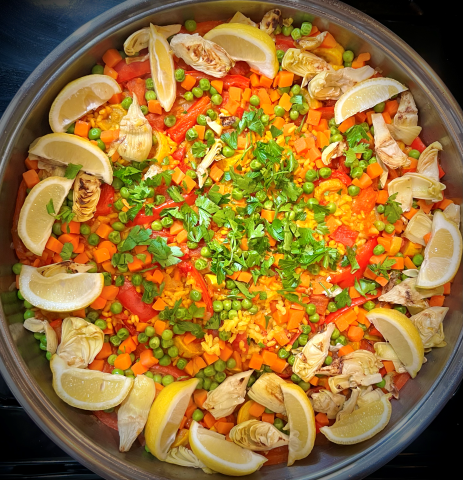 Call to Action
I am a big fan of aromatic spices such as saffron, which enhances the flavors of the foods I'm cooking. Let our lives be of a sweet aroma to God and others as we
---
Our next plant-based recipe will be published on August 16.
Comments
Ignacio Aguilar (not verified) Fri, 08/12/2022 - 07:31
Add new comment