I don't know about you, but the hardest part for me when I went plant-based was saying "goodbye" to cheese. With this simple cheese that shreds, slices, and melts, I can enjoy my favorite dishes again!
Almond Mozzarella Cheese
Ingredients
2 cups raw peeled almonds — to peel, soak raw almonds in very hot water for 30 minutes (make sure the water is very hot, this will help to loosen up the skins) then discard the water and peel the skins off by pinching each almond out of its skin
1/2 cup filtered coconut oil (this kind will not have the coconut flavor)
1 cup tapioca flour
5 teaspoons nutritional yeast flakes
1 1/2 tablespoons sea salt
3 tablespoons food grade Kappa carrageenan powder
4 tablespoons fresh lemon juice
1/2 cup almond yogurt plain and unsweetened
5 cups boiling water
Instructions
NOTE: make sure you have all the ingredients ready, because once you add the boiling water, you need to blend fast, as it will solidify quickly!
Pour all the ingredients in the blender (except for the boiling water), get the blender started and start adding the boiling water slowly (be careful not to burn yourself), gradually increase the speed of the blender and take the lid off to let the heat escape, let it blend for about 20 seconds full speed until is all creamy and with the help of a spatula, quickly place in the glass heat resistant container (I use a small round Pyrex bowl).
Refrigerate for about two hours (there's no need to cover it yet).
After the two hours, take the cheese out of the mold and wrap tightly in plastic wrap.
You are done, enjoy!!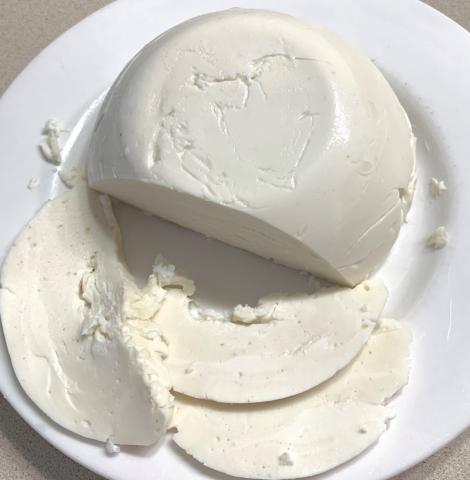 Call to Action
Almonds boast an impressive nutrient profile. A 1-ounce (28-gram) serving of almonds contains: Fiber: 3.5 grams, Protein: 6 grams, Fat: 14 grams (9 of which are monounsaturated), Vitamin E: 37% of the RDI*, Manganese: 32% of the RDI*, Magnesium: 20% of the RDI*, and they also contain a decent amount of copper, vitamin B2 (riboflavin) and phosphorus.
No wonder the Bible describes almonds as one of "the best of fruits"!
---
Our next plant-based recipe will be published on March 3.
All scripture taken from the King James Version.
*RDI: Recommended Dietary Intake.