These delightful bars are a cross between pie and a shortbread cookie. They can be made by replacing the traditional sugar with coconut sugar or maple syrup. Feel free to have fun with it and switch out the strawberries for any other frozen fruit that you prefer!

Strawberry Cookie Bars (yields 9 bars)
Shortbread crust:
1/4 cup earth balance buttery spread and 1/4 cup Tofutti cream cheese
1/3 cup powdered sugar
1/2 teaspoon salt
3/4 cup and 2 tablespoons flour
Fruit filling:
1 1/2 cups frozen strawberries and 1/4 cup water
1/2 teaspoon salt
1/4 cup packed brown sugar and 1/4 teaspoon lemon zest
3 tablespoons cornstarch dissolves in 3 tablespoons water
Crumb topping:
1/2 cup flour
1/2 cup packed brown sugar and 3 tablespoons butter, melted
1/2 teaspoon soy milk, if needed
1/2 teaspoon baking powder
Utensils needed:
Two mixing bowls Saucepan
Hand mixer
Rubber Spatula Parchment paper Small baking dish
Directions:
For the shortbread:
Preheat your oven to 350°.
Cream the vegan butter and cream cheese together in a bowl with a hand mixer.
Sift powdered sugar, flour and salt into the butter mixture and mix with a spatula. You should have a soft dough.
Line a 8×8 inch baking dish with parchment paper, making sure that the parchment paper covers the sides of the baking dish as well.
Evenly press the cookie dough into the parchment-lined baking dish.
Poke holes in the dough to avoid bubbles. Bake for 10 minutes.
For the fruit filling:
Place all ingredients except cornstarch mixture into a saucepan and bring to a boil. Once fruit is boiling, add cornstarch and water mixture. Sarah continually until the mixture has thickened.
Spread fruit mixture evenly into cooled shortbread crust.
For the crumb topping:
Mix flour, sugar and baking powder together in a mixing bowl.
Add melted butter and soy milk and mix until well combined.
Sprinkle crumb mixture on top of the cookie bars and bake for another 8-10 minutes.
Cool and slice.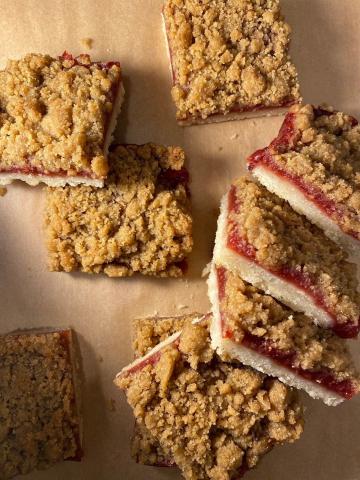 Call to Action:
As you enjoy these sweets, also take time enjoy the sweet things in life. God says that his will for us is to "give thanks" (1 Thessalonians 5:18 ESV). Let's aim to find the good in all situations.
---
Our next plant-based recipe will be published on May 13.
Comments
Alrick Lothian (not verified) Thu, 04/29/2021 - 09:36
I have personally enjoyed many of these recipes and they are wonderful.
Add new comment