The traditional snowball cookie. It is moist, delicious, tender, sweet, easy and quick to make. You can have these cookies on the table in 30 minutes. These snowball cookies do not require many ingredients; even so, let not the lack of sophisticated ingredients fool you. These snowball cookies have the flavor and ambience of something much more labor-intensive.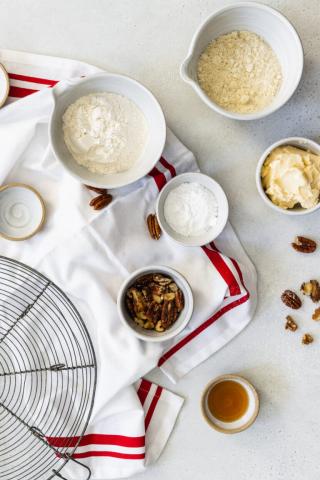 Snowball Cookies (makes 16 cookies)
Prep Time: 20 minutes
Cook Time: 10 minutes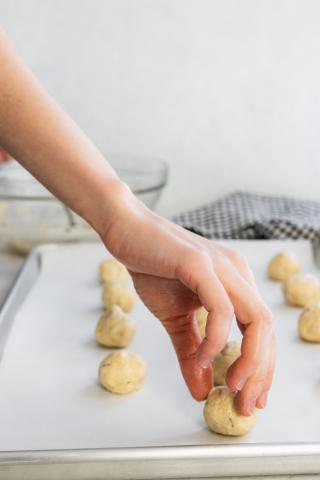 Ingredients
1/2 cup vegan margarine (Earth Balance)*
1/4 cup powdered sugar
1 teaspoon vanilla extract
1/4 teaspoon almond extract (optional)
2/3 cup all-purpose flour
1/2 cup almond flour
pinch of salt
1/2 cup pecan and walnuts, chopped
extra powdered sugar for rolling
*Vegan margarine can be substituted with coconut oil. Use refined coconut oil so the coconut flavor does not become overwhelming. Follow recipe as directed, but add the step of freezing the cookies (right after shaping) for about 15-20 minutes before baking. This will prevent the cookies from spreading and help them maintain the ball shape during the baking process.
Instructions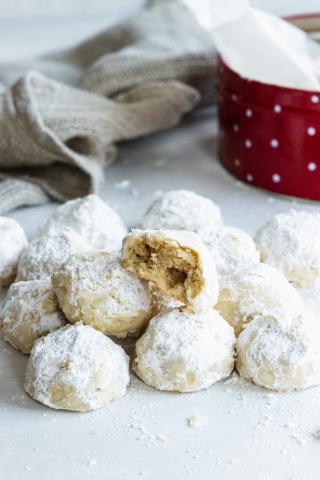 Preheat oven to 350 F.
In a large bowl, cream vegan margarine and powdered sugar with a hand mixer until light and fluffy. Add vanilla and almond extract and incorporate into the batter.
In a separate bowl, combine flour, almond flour, and salt.
Gently add the flour mixture to the margarine mixture, a little at a time, and finish by adding the chopped nuts.
Shape into 1 inch size balls, place on a baking sheet lined with parchment paper, and bake for 10 minutes.
Let cookies cool for 10-15 minutes or until cool enough to handle safely. Roll each cookie in powdered sugar and rest on a baking rack. Finally, give them another roll in the powdered sugar when the cookies are completely cooled. Store in an airtight container.
This snowball cookie version can hold its own against other snowball cookie recipes, including those made with dairy. In fact, many prefer them over the dairy ones as they are much lighter in texture. So give them a try. I think you'll love them. They are perfect for the Holidays, a Christmas classic to write home about, and so cute and festive to look at.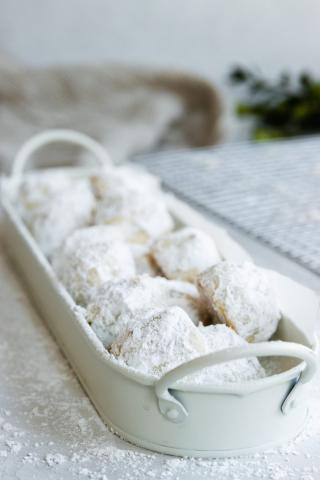 Call to Action
These snowball cookies are fun to make and taste delicious. Although we cannot find "cookies" in the Bible, there are sweet treats in the Bible, even one that was more rare1 than an annual Christmas cookie.
Making festive treats during this holiday season is fun. Even more importantly, let's remember to enjoy the wonderful truths from God's word, and daily feed ourselves spiritually. With this spiritual food, we can never eat too much!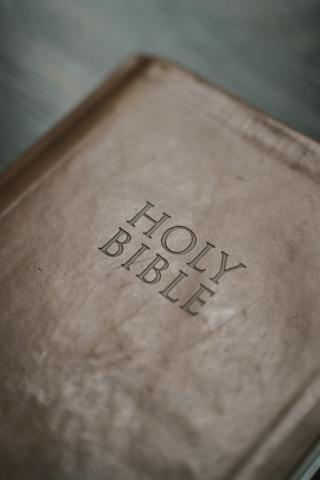 ---
Our next plant-based recipe will be published on January 18.

Manna's frequency is once every ~150 years. Israel ate manna for 40 years (Exodus 16:35). Estimating the world is 6,000 years old. 6,000 years / 40 years = 150 years.