This Greek-inspired Pomodoro pasta dish is light, fresh, and best of all, quick and easy to prepare. If you'd rather have a different pasta, you can swap the fettuccine for whatever you prefer. You can also add a little cayenne or red pepper flakes to spice it up.
Greek Pomodoro Fettuccine (yields 16 1/2 cup servings)
Ingredients
1 medium onion, minced fine
1 tablespoon olive oil
3 cloves fresh garlic, minced fine
2 cups diced canned tomatoes
2 tablespoons fresh lemon juice
1 cup vegetable broth
1 teaspoon sugar
1 teaspoon dried basil
1/2 teaspoon dried oregano
1 teaspoon dried parsley
1/2 teaspoon onion powder
1/2 teaspoon garlic powder
1 tablespoon McKay's Chicken-style Seasoning
Salt to taste
5 cups fresh spinach, chopped
1 cup sliced black or green olives
1 cup grape tomatoes, sliced in half
1/2 pound uncooked fettuccine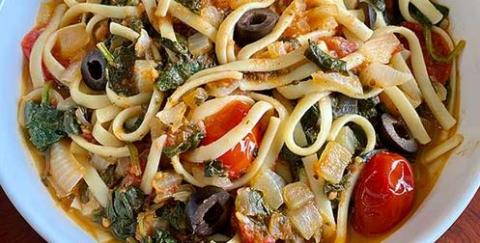 Directions
Bring a large pot of salted water to boil and cook pasta according to package directions. Drain and set aside.
While pasta is cooking, sauté onion and garlic in olive oil in a large skillet over medium heat until onion is clear. Add all remaining ingredients except for spinach, tomatoes, olives, and pasta. Simmer for 15-20 minutes. Add fresh chopped spinach and cook for an additional 5 minutes.
Add grape tomatoes and black olives. Serve hot over pasta.
Optional: You can substitute frozen spinach for the fresh but I think fresh is the best. Also if you like things a bit spicy, try adding 1/4 teaspoon cayenne pepper or 1/2 teaspoon crushed red pepper.
Call to Action
"My food," said Jesus, "is to do the will of him who sent me and to finish his work" (John 4:34).
Let's not just satisfy our physical hunger, but daily fill ourselves with spiritual food by reading God's Word and seeking His will for our lives.
---
Our next plant-based recipe will be published on June 13.
All Scripture quotations are taken from the Holy Bible, New International Version®, NIV®. Copyright ©1973, 1978, 1984, 2011 by Biblica, Inc.™ Used by permission of Zondervan. All rights reserved worldwide.