A seasonal dish from a restaurant in Spain inspired this refreshing but hearty salad. Quick and easy to make, this salad has a depth of flavor that will have you making it again. Dark leafy greens like spring mix or baby kale add high amounts of vitamins, minerals, and phytochemicals. Baby kale is milder in flavor than regular kale and is found in most grocery stores. This dish is tasty with some garlic bread, avocado toast, or whole grains such as brown rice, millet, and quinoa.
Fried Lentil Salad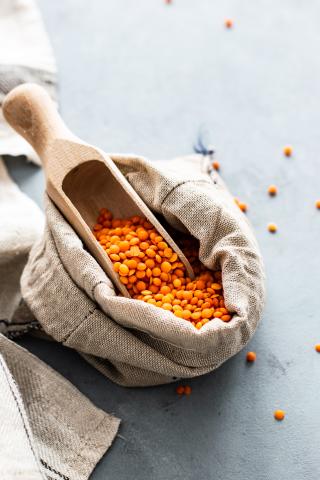 Ingredients
1 large yellow onion thinly sliced
1/2 teaspoon sweet paprika powder
1 cup cherry tomatoes
1 cup cooked lentils
1 package of baby kale or spring mix
Juice from 1/2 lemon (2 tablespoons)
Himalayan salt to taste
1/2 cup pistachios chopped for garnish
Instructions
Sauté the onion in a little olive oil with paprika and a pinch of salt for about 15 minutes on medium-low heat. Stir occasionally. If you would like to make this without oil, sauté the onion in a ½ cup of water in a deep bottomed frying pan. Keep adding water (enough to simmer) to prevent sticking as it will evaporate quickly. If water sautéing, add the paprika towards the end of the sauté time.
Add the cherry tomatoes and lentils, sauté for a few more minutes.
Dress the salad with a squeeze of lemon. Use your hands to massage the juice into the salad. Top with cooled onion and lentil mixture Garnish with chopped pistachios.
¡Buen provecho!
Call to Action
Choosing to eat more plant-based meals? Consider adding high in plant-based protein ingredients such as lentils. There is no need to worry about mixing and matching proteins — that nutritional science has been debunked. Protein is ubiquitous so it is hard to be deficient in it if you are eating a balanced, whole foods, plant-based diet; however, many individuals, especially if they are elderly, physically active, pregnant/breast-feeding, or growing boys and girls, feel better adding protein-rich foods to their daily meals. Protein-rich plant foods also help balance blood sugar, steady digestive enzymes and hormones, and diminish cravings.
Remember when Esau came in from the field, faint and weary from days of hunting? What did he crave? Jacob's protein-rich lentil stew! Esau was not in his right frame of mind due to his exhaustion, hunger, and cravings. After all — he sold his birthright for those lentils! After he ate, he regained his energy, his hormones and blood sugars leveled out, and then he realized what he had done. Moral of the story: never make major decisions on an empty stomach!