Try a cream of broccoli soup that you and others are sure to enjoy!
Cream of Broccoli Soup (serves 6)
Ingredients:
1 onion, chopped
2 cups celery, chopped
4 medium-size russet potatoes, peeled and chopped
2 heads of broccoli, chopped
2 cups frozen peas
2 teaspoons garlic powder
3 tablespoon dehydrated onion flakes
1/4 cup Braggs amino acids
1 quart of water
1 cup cashews soaked overnight and drained
Directions:
Steam onions, celery, potatoes, and broccoli in large pot with a steam basket and a quart of water until tender. Make sure to cover with a lid. Steaming helps retain more flavor with less liquid, keeping more nutrients available especially when you cover with a lid.
Blend cashews in a high-speed blender for one minute with one cup of fresh water until smooth.
Carefully remove steam basket and add blended cashews and peas to the pot and seasonings and cook a few minutes more. Using a large ladle, transfer about a quart and a half of soup/steamed vegetables to high-speed blender and return to the soup pot.
Ladle creamy soup into bowls and garnish with broccoli or arugula micro-greens!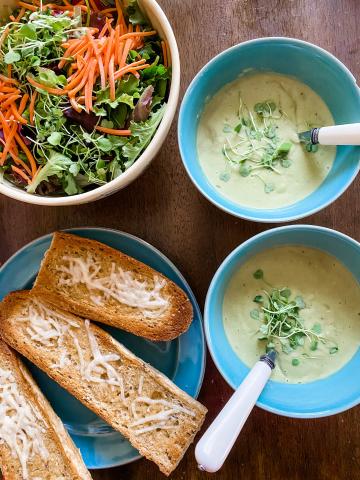 Call to Action: *Immune Boosting Bonus*
Adding fresh or raw cruciferous vegetable to your meal of cooked cruciferous veggies like broccoli, will help boost the cancer-fighting, virus-fighting function of the food and promote natural killer cell activity and macrophage phagocytosis. In other words it helps kill viruses and cancerous cells. Isn't God so good to give us wonderful plant foods that can help heal our bodies and fight disease?
---
Our next plant-based recipe will be published on April 19.