This easy curry recipe is a wonderful weeknight dinner that is full of vibrant exotic flavors from both pantry and fresh ingredients. Using fresh turmeric and fresh garlic enhances the nutrient density and anti-inflammatory properties to assist your body's natural healing potential. Slow-cooking in a crockpot will make the flavors really stand out!
Coconut Chickpea Curry (serves 6)
1 yellow onion, chopped
5 cloves garlic, crushed
1 bell pepper, chopped
1 can 15 oz crushed tomatoes
1 can 15 oz coconut milk
1 teaspoon ground cumin
1 teaspoon paprika
1/2 tablespoon mild curry powder (optional)
1 teaspoon salt
4 cups chickpeas or two 16 oz cans, drained
1 tablespoon fresh turmeric, grated
1 tablespoon fresh ginger, grated
Instructions
Sauté onion and garlic in a soup pot with some olive oil or omit the oil and just water. To water sauté add a cup of water and keep adding water in 1/2 cup increments as needed to prevent from sticking until garlic and onion are tender.
Add bell pepper and sauté until tender. Add the rest of the ingredients and let simmer on medium-low heat for about 30 minutes. Serve over brown rice and place a dollop of raita and chopped cilantro on top.
Vegan Indian Raita (makes about 1 1/2 cups)
1 cup Kite Hill unsweetened almond yogurt
1 garlic, crushed
1 tablespoon lemon juice
1 tablespoon chopped cilantro
1/4 teaspoon ground coriander
1/4 teaspoon ground cumin
1/2 cup cucumber, peeled and chopped
A pinch of salt
Instructions
Mix ingredients thoroughly in a small bowl and chill in the refrigerator until ready to serve. Store in an airtight container and use within 24 hours.
Call to Action
This week, try a new plant-based ingredient from the produce section. Whether it is a new fresh herb you can chop up in your salad or try fresh turmeric and fresh ginger in this recipe all those subtle changes enhance the flavor and the antioxidants in your meals! When we eat nutrient-dense plant foods our bodies can heal and detox more efficiently! Our kind Heavenly Father wants us to prosper and be in good health (3 John 1:2).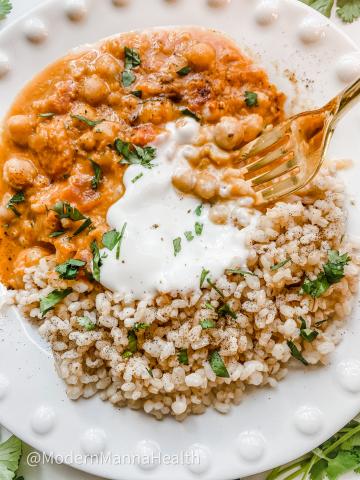 ---
Our next plant-based recipe will be published on March 23.
Comments
Anthony J (not verified) Sun, 03/28/2021 - 21:38
We made this recipe recently. It had amazing flavor and taste. The red peppers were a really nice addition. This was a quick and easy recipe. We made it early and left it in the crockpot all afternoon. It was perfect for dinner.
Michelle (not verified) Sun, 03/28/2021 - 21:39
This was a family favorite and very easy to make. I highly recommend this recipe.
Jonathon C (not verified) Mon, 03/29/2021 - 12:54
Temple Reed (not verified) Fri, 04/16/2021 - 21:30
What an easy and nutritious recipe! My whole family enjoyed and asked for more. 
Add new comment