I've always enjoyed the hearty nutty flavors of wild rice and it works well with the sweetness of the corn and slight tang of the lime. There are a lot of flavors and textures to explore in this dish and it can be consumed as a main course or try it with a green salad, sandwich, or soup.
Black Bean and Sweet Corn Wild Rice Salad (serves 4)
Ingredients
8 ounces wild rice
2 garlic cloves
10 ounces frozen sweet corn
1 can black beans, rinsed and drained
2 tablespoons olive oil
1/4 cup cilantro, chopped
2 1/2 tablespoons lime juice or juice from 1 1/2 limes
1/2 teaspoon Herbamare salt or to taste
2 green onions, sliced
Instructions
Cook wild rice according to package directions. I often quadruple the amount of salted water to the wild rice, bring to a boil and let simmer uncovered for 30-40 minutes until grains start to crack open and softens to a chewy texture. Remove from heat, drain, and place in a medium serving bowl.
Saute garlic in a little olive oil or water until starts to turn light brown. Add in the corn and black beans and cook until corn is heated through.
In a small bowl whisk together the olive oil, cilantro, lime juice, and salt to taste.
Add the black beans and corn in with the rice and pour the dressing over it. Mix thoroughly. It is okay if the salad is still warm; it is still quite yummy and doesn't have to be eaten cold. Garnish with sliced green onions.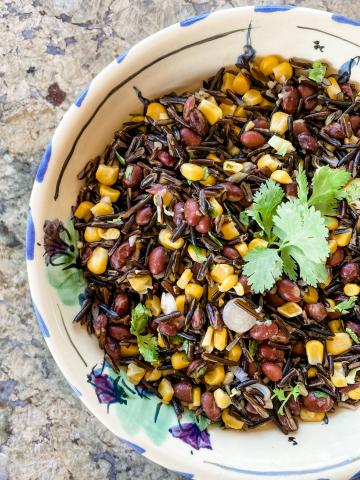 Call to Action
This whole grain recipe is low-glycemic and beneficial for blood sugar levels because of the beneficial fibers found in the wild rice and beans.
Try a hearty salad like this for a main meal!
---
Our next plant-based recipe will be published on January 31.