Pets: Guinea Pig, Parakeet, Iguana, Cat and Dogs
I've never been much of a pet person. Growing up we never kept a pet for very long. I remember taking various animals home in elementary school for the weekend and being terrified every time. It was just something everyone volunteered to do, so peer pressure forced me into taking a guinea pig and an iguana home for a visit. Yuck. Then, of course, there was the pet parakeet my mother bought me a for my 13th birthday. It was a novel idea until I tried cleaning the cage. Every every single time the bird would fly out of the cage and crash into our big picture window — longing, of course, to be free from a cage to roam the vast blue skies. This would take me on a wild goose chase throughout our home to get him back into the cage. His name was Gerald. Then there was a lovely stray white cat I named Royster that brought me years of joy. That was my only somewhat successful pet endeavor. He stayed outside, but he would follow me to the bus stop every morning and meet me at my walkway after school every day. Suddenly one day he disappeared. Dogs, however, just never worked out for me. I had several that ended up finding much more competent owners. Overall, pets and me just weren't a match. I've just accepted that reality. But truth be told, I really am absolutely amazed with and love almost everyone else's pets, especially their dogs.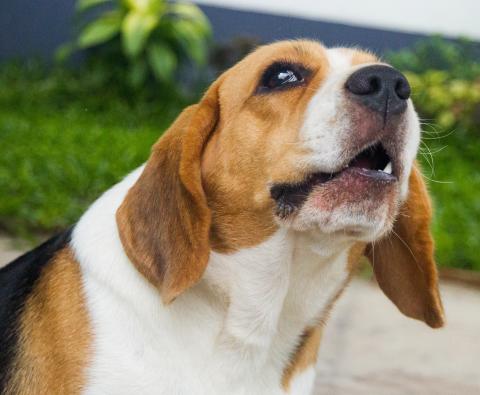 We are transitioning onto a country property and spend a good deal of the week at a rather idyllic, rustic property with lots of woods and open areas to garden, enjoy nature and work on endless projects that need to be done on the property. Every Saturday morning at 5 a.m. I go outside to pray with my prayer partner of two decades. We have seen amazing answers to prayer, and it is an appointment I rarely miss. One particular morning I wasn't wearing my glasses, and it was dark outside. I thought I saw an animal running around in the darkness. All I could make out were white paws. We just assumed that it might be a coyote, and I left the thought alone. The following morning, as I was leaving for an early morning appointment, I saw a playful black, brown and white beagle dog dancing around my car. As I attempted to drive off, the dog barked and ran alongside my car, often in front of me, for about a mile. It was acting as if he was saying, "Where are you going? Can I come with you? Don't leave me!"
It soon became evident that this stray dog, with no identifying collar, decided that we were the ones he wanted to live with temporarily. Of course, we started feeding him. Whenever we left the property for a few days and came back, "Skippy" would be waiting for us. While we were present on the property, he clearly identified himself as our "protector," and the problem we had with bothersome woodchucks, squirrels and chipmunks everywhere suddenly disappeared. He followed us around like an eternally grateful servant. He slept with perfect contentment outside our front door, curled up like a happy camper.
These observations, coming from a very inexperienced pet owner, gave me great pause and wonder. I couldn't help but see parallels with our loving and committed heavenly Father. The fact that Skippy chose us as his new family for a season — particularly having revealed himself to me during my weekly prayer time — reminds me of Jesus. He says, "Ye have not chosen me, but I have chosen you, and ordained you, that ye should go and bring forth fruit, and that your fruit should remain: that whatsoever ye shall ask of the Father in my name, He may give it you," (John 15:16). What a faithful God who seeks us out for the purpose of making us fruitful in this life, then guaranteeing us the promise of answered prayers!! What an amazing and awesome God.
Call to Remember
Recalling Skippy following us around almost constantly while on the property, I think of the way Jesus reminds us that His goodness and mercy follow us all the days of our lives (Psalm 23:6). Skippy has moved on to greener pastures. But for sure, Jesus is with us. He will never leave us nor forsake us (Hebrews 13:5). He is our eternal protector and our refuge (Psalm 46:1). He loves us with a love that excels the instinctive faithfulness of a beloved dog (Jeremiah 31:3). What a wonderful God we serve!
---
All scripture taken from the King James Version.