Do you struggle having strong faith in the times in which we are living? I know I sometimes do. In fact, this past year, I've been on a bit of a roller coaster of faith versus my circumstances. Yes, I admit, the things I've been teaching and preaching about for years have been challenged in a new way in my own life, and I've often had to cry out, "Lord, give me strength to get through this trial!"
When the bills stack up, when physical resources are running short, when loved ones are suffering, and when life seems out of control, it is easy to second guess God's calling in our life and ministry. In fact, sometimes it's all we can do not to panic. But God isn't panicking! Can you imagine Him up in heaven looking down upon His needy children and crying, "Oh no! Their needs are too great. I really want the work to go forward, I want the gospel to go to the whole world, but I simply don't have enough resources to help my children accomplish this great task." Is God saying this? No, of course not!
In John 6 we find Jesus on a mountain above the Sea of Galilee breaking the bread of life to the multitudes. However, as the day wore on, it became obvious that the people would need more then just spiritual bread. They also needed physical bread. But what were the disciples to do?
Of course Jesus could have brought bread from heaven instantly right then and there, but to test the faith of His disciples He questioned them first, "Where can we buy bread to feed all these people?"
Recognizing the impossibility of the whole situation, the disciples responded, "Two hundred pennyworth of bread is not sufficient for them." (In other words, "Even if there was a place to buy bread, we couldn't afford to feed all these people!")
However, one young boy had brought five barley loaves and two small fishes, and hearing that food was needed, he unselfishly offered his food to the disciples who in turn brought it to Jesus. But their faith was still weak.
"There is a boy here who has five barley loaves and two fish," they told Jesus, "But what are they for so many?"(In other words, "Yes, we have something. But it's still not enough!")
Isn't this so often our question today? "We have five barley loaves and two small fishes. God has given us a little; a little time, a little money, a little talent. But what are these compared with the great need before us? It's simply not enough to achieve success! How can we possibly manage to do what needs to be done with such limited resources?"
But the disciples were looking only at the bread they had in their hands, not at what Jesus could do. The lesson Jesus wanted His disciples to learn that day was that faith in God will bring multiplication of resources. If we have faith, God has the resources — it's that simple!
When Jesus prayed, the invisible resources became visible. Faith was the converting power.
Ellen White writes: "Workers for Christ are never to think, much less to speak, of failure in their work. Though the outward appearance may be unpromising, energy and trust in God will develop resources."1
Today, the outward appearances may be unpromising. We may have what seems to be insurmountable challenges within our life, our family, church, or personal ministries, but we must remember that we serve the God of all possibilities, and He has a thousand ways to provide for us that we don't even know about.
So often, when it seems we can't move forward, or we aren't having success as we hope, rather than dealing with the root of the problem, we focus on method improvement. While our methods can always be improved upon, in God's Kingdom, methods are usually not the problem — nor are the lack of resources or lack of talent. The problem is the lack of faith in God's men and women. In fact, Inspiration boldly tells us that, "Every failure on the part of the children of God is due to their lack of faith!"2
You see, the question to ask as we work in the final days of earth's history is not, "Do we have enough resources, or will our efforts be successful?" The question is rather, "Are we willing to be faithful to God's call and use what He's given us?" If we use what He's given us and move forward in faith, He will continue to supply our needs.
So how do we grow faith that will stand during the storms of life! How do we grow faith to believe that God will supply our needs even when it seems like nothing is happening.
Let me share five simple keys that have helped me grow my faith, even in the times when life seems to be falling apart.
1. Spend TIME in God's Word
It might seem like I'm preaching to the choir, but we all know how challenging this can be when our daily lives are so full. I've sometimes justified my lack of adequate quality time with Jesus with the fact that I'm serving Him… you know, like Martha. But then I hear His gentle whisper and rebuke. "Come, Melody! Stop hurrying and worrying so much. Stop stressing about all that you have to do. Come sit at my feet. Read my Word. Talk to me!"
If we want to become victorious in our daily spiritual battles, we must be in God's Word. If we want to change our sinful thinking habits to habits of faith and trust, it's time to turn off the media, step away from our smartphones, sign out of Facebook, and put our face in the BOOK… in God's book! The Bible tells us, "Faith comes by hearing and hearing by the Word of God" (Romans 10:17 NKJV).
2. Memorize the Word
It's one thing to read the Word, but it's another to put it to our memory! Not only does God's Word give us peace in the midst of trials. It also helps us not to fall into sin or despair during our trials.
Psalms 119:9,11 says: "Wherewithal shall a young man cleanse his way? by taking heed thereto according to thy word. Thy word have I hid in mine heart, that I might not sin against thee" (KJV).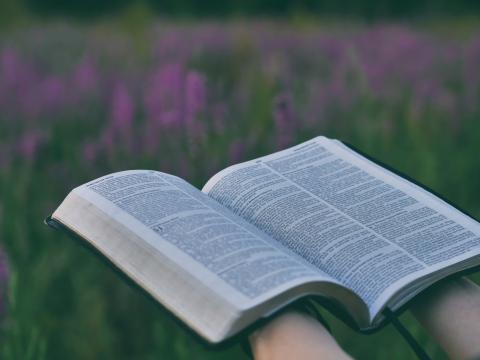 3. Talk Faith, Pray Faith, Live Faith!
The third way to grow faith after we've taken daily time in God's Word and put His Word in our heart is to Talk Faith, Pray Faith, and Live in Faith.
First of all, how do we talk faith? We learn what it means to be full of praise. 1 Chronicles 16:8-9 says, "Give thanks unto the LORD, call upon his name, make known his deeds among the people. Sing unto him, sing psalms unto him, talk ye of all his wondrous works" (KJV).
Another thing that helps boost my faith is praying the Word. When I pray the Word back to God, it's not my own feeble words or requests, it's His Word I'm giving back to Him in faith. He delights to honor our faith in His Word. And He's given us so many promises to claim. In fact we are told, "The honor of His throne is staked for the fulfillment of His word unto us."3
Finally the Scriptures tell us, "My little children, let us not love in word, neither in tongue; but in deed and in truth" (1 John 3:18 KJV). It's time we learn to live our faith!
4. Read and Reflect on Testimonies of Faith
Isaiah 43:9-10 tells us, "Let all the nations be gathered together, and let the people be assembled: who among them can declare this, and shew us former things? let them bring forth their witnesses, that they may be justified: or let them hear, and say, It is truth. Ye are my witnesses, saith the LORD, and my servant whom I have chosen: that ye may know and believe me, and understand that I am he: before me there was no God formed, neither shall there be after me" (KJV).
God's people down through history are witnesses to His majesty and glory. Through their life and faithful testimony, they remind us that we serve the One and only God.
Ellen White writes, "We have nothing to fear for the future, except as we shall forget the way the Lord has led us, and His teaching in our past history."4
One of my favorite ways to reflect on testimonies of faith, besides reading the stories of the Bible, is by reading stories of those from the past who went through great trials and saw God's mighty miracles. There are many stories from the past, and some from more recent times. Some of my favorite books to recommend would be:
A Thousand Shall Fall – by Susi Hasel Mundy
One Miracle After Another: The Pavel Goia story – by Greg Budd
5. Learn to Abide in Jesus, by Faith!
Hudson Taylor was one of the early pioneer missionaries to the interior of China, and he spent many years working as a missionary in service to the Lord before he realized what it means to abide by faith in Jesus. Constantly stressed and anxious, he struggled under the weight of life's burdens. However one day the truth of the abiding life came home to him, and he grasped the fullness of what Christ came to bring. In a letter to his sister, he describes his awakening experience and its effect upon his life.
"How to get faith strengthened? Not by striving after faith, but by resting on the Faithful One. I have striven in vain to rest in Him. I'll strive no more. For has He not promised to abide with me — never to leave me, never to fail me?... The sweetest part, if one may speak of one part being sweeter than another, is the rest which full identification with Christ brings. I am no longer anxious about anything, as I realize this; for He, I know, is able to carry out His will, and His will is mine. It makes no matter where He places me, or how. For in the easiest positions He must give me grace, and in the most difficult His grace is sufficient."5
Others, who were witnesses to Hudson Taylor's transformed life, later added their own testimonies. "He was a man bearing tremendous burdens, yet absolutely calm and unruffled. He was an object lesson in quietness. He drew from the bank of heaven every farthing of his daily income — 'My peace I give unto you.' Whatever did not agitate the Savior, or ruffle His spirit was not to agitate him. Although occupied with millions, he knew nothing of rush or hurry, of quivering nerves or vexation of spirit. He knew there was a peace passing all understanding, and that he could not do without."6
Like Hudson Taylor, I wish I'd grasped the beauty of the abiding life of faith much sooner, instead of waiting so many years. But no matter where we are in our journey, God's grace is sufficient. And as we learn to rest our faith in Him, we will discover that He is all that we need and so much more!
Call to Action
So dear friends, let's put our trust in God's Word. Instead of looking at the news or the discouraging circumstances around us, let's root ourselves in Jesus. He is the Rock of our salvation, the Rock that will not be shaken, and the Rock that will carry us through whatever storms lie ahead. He is worthy of our faith!

---
Unless noted otherwise, scripture taken from the New King James Version®. Copyright © 1982 by Thomas Nelson. Used by permission. All rights reserved.
Ellen G. White, The collection of Ellen G. White's articles that appeared in the Review and Herald Periodicals (Review and Herald Publishing Association, May 20, 1902), paragraph 14.
Ellen G. White, Patriarchs and Prophets (Washington, D.C.: Review and Herald Publishing Association, 1890), 657.
Ellen G. White, Christ's Object Lessons (Battle Creek, Michigan: Review and Herald Publishing Association, 1900), 148.
Ellen G. White, Testimonies for the Church (Mountain View, California: Pacific Press Publishing Association, 1876), vol. 9, 10.
V. Raymond Edman, They Found the Secret (Zondervan, reprint edition 1984), 20.
V. Raymond Edman, They Found the Secret (Zondervan, reprint edition 1984), 21.